What makes the Blast and Paint operation such a vital part of MTI's production capability? Well, without paint, a manufacturing process is simply incomplete. If contractors want their plants to be known as "turnkey" operations – a highly coveted label – they must be able to consistently deliver according to customers' paint requirements. Painting is often the final item of successful delivery (not including testing, of course). The topcoat not only "finishes" the end-product, but multi-part paint systems also ensure the quality of the application protects the customers' investment for years to come. So it is critical to ensure metrics are in place to meet compliance with our customers' technical specifications. Metal Trades, Inc. promises quality and compliance to meet the customers' requirements from delivery of raw steel to final testing and delivery.
MTI: Investing in Blast and Paint Talent…
Metal Trades, Inc. recognizes the importance of coatings, establishing relationships with multiple paint vendors, creating relationships with subcontractors to assist on time-critical projects if needed, and we invest in Blast and Paint Infrastructure to support this critical aspect of the job's life cycle. MTI offers exceptional in-house Quality Assurance oversight on every project. We have on-staff certified NACE Inspectors and an expert team that repeatedly accomplishes painting quickly, efficiently, and in compliance with specified requirements. When required, our crew works day and night to meet critical deadlines.
…And Blast and Paint Technology!
Metal Trades, Inc. boasts one of the largest indoor blast and paint booths on the East Coast—in total our main blast and paint building is 200 feet x 40 feet wide. This capacity is due to the width of the door opening, which will accommodate structures 35 feet wide. Each booth (blast and paint) is 100 feet long with accordion doors that allow products to easily move from one bay to the next. The doors open in a way that allows the flexibility for overhang when necessary. Our heavy lift equipment can easily drive through the building to transit large structures and modules in and out of our booths.
"Small" Booth, Big Production Flexibility!
MTI also has a "small" blast and paint booth that is 20 feet x 40 feet (each booth). This smaller booth is great for jobs such as hoppers and platforms. This booth also helps MTI accommodate various product lines that are in high-volume production. Our "small" blast and paint booth connect to our main fabrication building, which also allows our heavy lift equipment and MTI's own tractor trailer access for easy loading. MTI can accommodate delivery by land or deep-water from our heavy lift loading pier and/or our marine railway. Our "small booth" stays busy supporting our Power Generation Division but is ready to support additional capacity and our "big booth" is ready for more work too!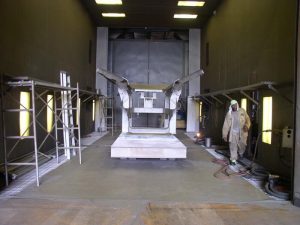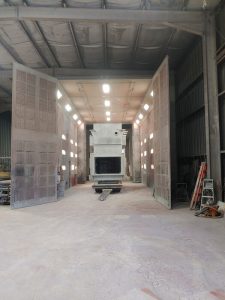 The Final Step of a Turnkey Operation
After all the assemblers, welders, fitters, and crane operators have done their job, your MTI structure has been transformed from raw iron and steel into something that closely resembles the vessel you ordered. But it's not done yet. The talent and technology of MTI's Blast and Paint operation provide the finishing touch that brings it all to life. Now THAT'S turnkey skill, convenience, and quality!
MTI specializes in new construction and maintenance and repair. Think of Metal Trades when you have a large blast and paint job! We would love to support your next project.
Visit the MTI website or call 843-889-6441 and ask for Business Development or Estimating Department.