About Us
Our facility sits on a 48+ acre complex with deep water access (35+ feet depth) from MTI to the Intracoastal Waterway.
We offer an in-house steel processing center, multiple indoor fabrication buildings with overhead crane systems and heavy lift equipment, dedicated indoor blast and painting facilities, and an onsite machine shop. We offer highly competitive labor rates and extensive solutions for our customer's needs.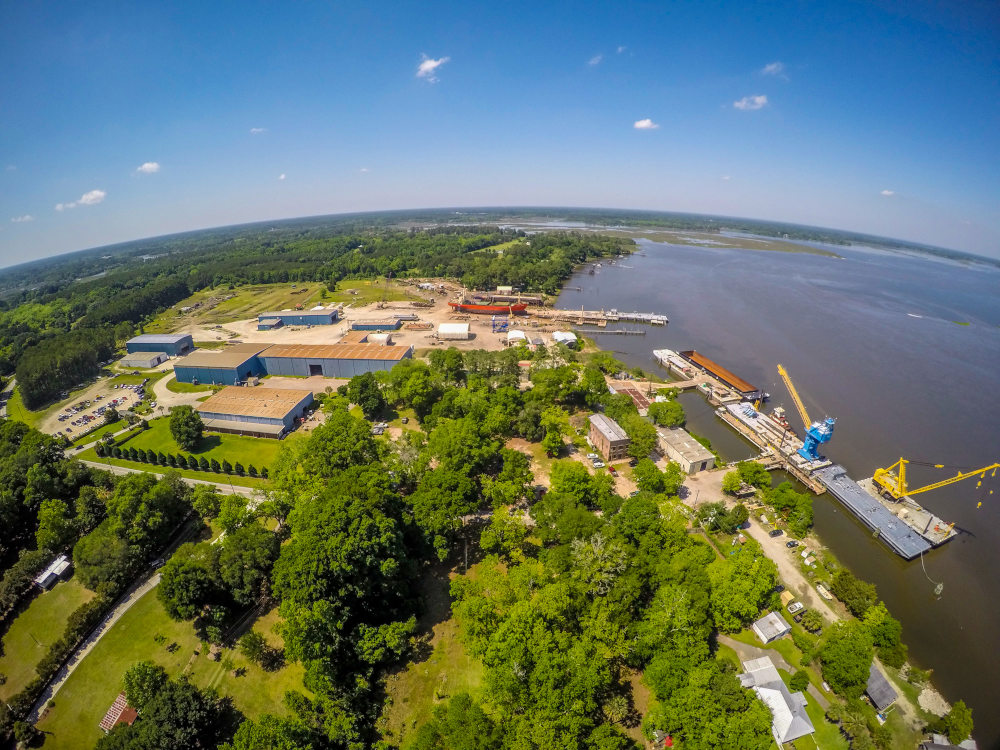 We employ pipe fitters/welders, structural fitters/welders, inside and outside machinists, painters, blasters, marine electricians, riggers, NDT Inspectors, sheet metal mechanics, and laborers operating with between 100 to 200 employees
We also offer in-house CAD drafting and lofting using AutoCAD, Solidworks, Inventor and ProNest Software. Upon request MTI also offers contracted Professional Engineering consultation and stamped design in accordance with applicable standards.
We offer turn-key services from processing raw materials to door-to-door delivery of manufactured products.
Our dry-dock/transfer system can accommodate vessels and barges of up to 370 foot length by approximately 70 foot wide and our Marine Railway and Transfer Area is approximately 800 feet long with 40 foot wide Transfer Cars that have a 400 ton capacity each. We can accommodate up to a 15' draft.
Download our Line Card

Metal Trades, Inc. (MTI) is a family owned business located just south of Charleston, South Carolina operating with deep water access on the intracoastal waterway. We have been in business since 1962 and have extensive past performance in Heavy Steel Fabrication, Manufacturing, Machining, Vessel Construction and Vessel Maintenance and Repair for both commercial and Government customers.
" J.E. Corbin, Jr. founded Metal Trades, Inc. in 1962 with a pickup truck, a welding machine, and years of metal fabricating experience. Since that time MTI established a solid reputation for its multi-skilled work force and strong commitment to high quality."