Company
About Us
Our facility sits on a 48+ acre complex with deep water access (35+ feet depth) from MTI to the Intracoastal Waterway.
We offer an in-house steel processing center, multiple indoor fabrication buildings with overhead crane systems and heavy lift equipment, dedicated indoor blast and painting facilities, and an onsite machine shop. We offer highly competitive labor rates and extensive solutions for our customer's needs.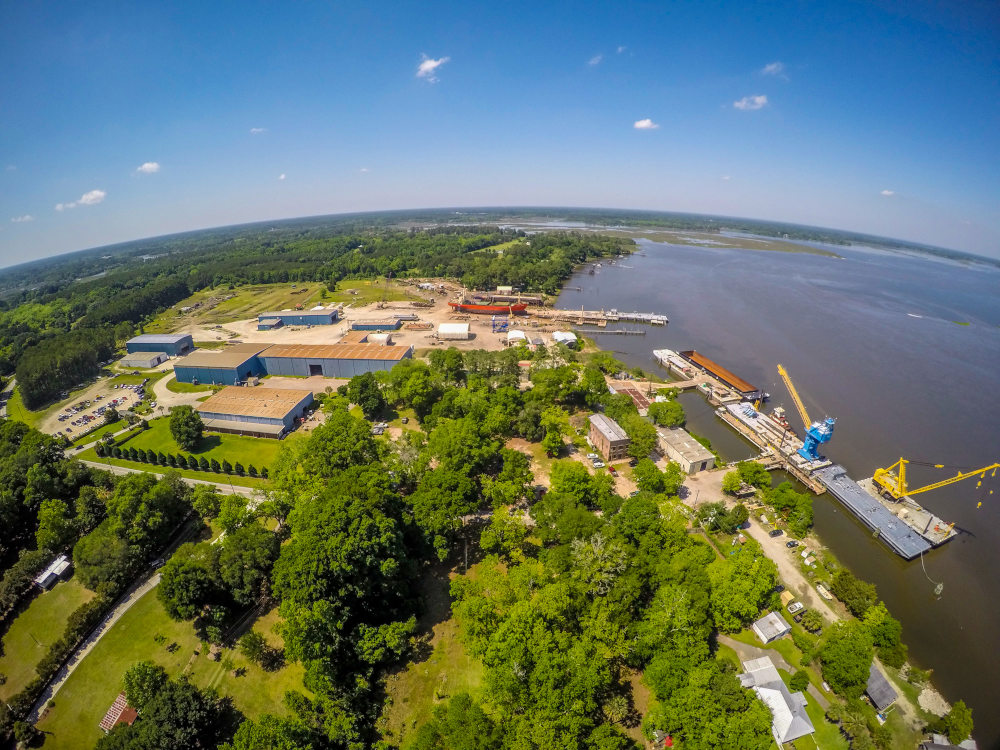 We employ pipe fitters/welders, structural fitters/welders, inside and outside machinists, painters, blasters, marine electricians, riggers, NDT Inspectors, sheet metal mechanics, and laborers operating with between 100 to 200 employees
We also offer in-house CAD drafting and lofting using AutoCAD, Solidworks, Inventor and ProNest Software. Upon request MTI also offers contracted Professional Engineering consultation and stamped design in accordance with applicable standards.
We offer turn-key services from processing raw materials to door-to-door delivery of manufactured products.
Our dry-dock/transfer system can accommodate vessels and barges of up to 370 foot length by approximately 70 foot wide and our Marine Railway and Transfer Area is approximately 800 feet long with 40 foot wide Transfer Cars that have a 400 ton capacity each. We can accommodate up to a 15' draft.
Safety – A S.T.E.P. in the right direction
Safety Takes Every Person, a strong Health, Environmental, and Safety Program is a vital part of the day to day business operations at Metal Trades, Inc.
Health and Safety is integrated into all business processes through high quality programs that effectively manage risks to the employees, the company, and the community. The success of the program is credited to the hard work and dedication at all levels of employment. From Senior Management to the employees in the field. Our mantra Safety Takes Every Person defines the attitude and reflection of engaged employees who believe that a safe work environment is a necessity, is achievable and is sustainable. Our employees are our most highly valued asset and our success is a result of their dedication and skilled expertise. Together we will take every STEP to insure their safety and the safety of those around them. Together we will achieve reaching our goal of the highest standards attainable for our industry.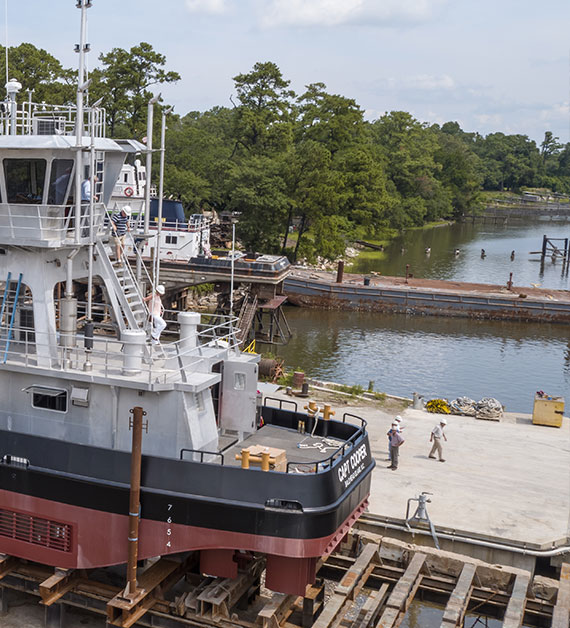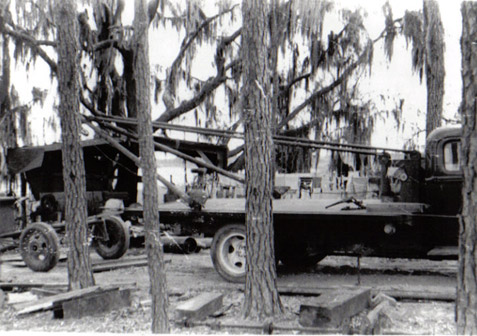 History
Homegrown Beginnings
Metal Trades, Inc. was established in 1962 by the late J.E. Corbin, Jr.—known to most as Ted Corbin. Ted defined the spirit of entrepreneurship. With his wife as his bookkeeper and his five sons working along-side him, he started the company with a welding truck and a dream.
Change the Plan, Never the Goal
Initially known as a Steel Fabricator, Metal Trades diversified into a Marine Repair Facility overhauling minesweepers, Landing Craft Units and Landing Craft Mechanisms for the U.S. Army.
Metal Trades main focus of steel and sheet metal fabrication has grown from becoming certified as a Master Ship Repair Contractor for the US Army and Navy, providing overhaul and ship repair services on various types of coastal vessels, to a first class multi-skilled workforce specializing in Heavy Custom Steel Fabrication, Barge/Commercial Marine construction and Ship Repair.
For more than 50 years, Metal Trades, Inc. has been committed to quality and delivering exceptional product to customers in both the public and private sectors.  MTI is a key long-term partner to Original Equipment Manufacturer (OEM) companies looking for a "go-to" source for steel fabrications requiring high quality, skilled craftsman, and certified welders on all types of steel.  We offer a complete set of capabilities including steel processing, fabrication, welding, piping, machining, electrical installation, blasting and painting that makes us and industry leader.
Expansion
In our 50 plus years of operation, substantial investments have been made in the facility including improvements and upgrades in our marine railway, construction of new buildings to include industry leading blast and paint facilities, dedicated fabrication buildings, tooling investments in our machine shop, construction of a new pier for additional dockage space, and significant upgrades to our equipment in processing as well as throughout all our manufacturing facilities.  Today, our leadership continues to invest making Metal Trades, Inc. an industry leader to better serve its customers on all levels. Metal Trades, Inc. is still family owned and operated with three generations employed continuing the legacy and excited for the future ahead.
Leadership
The company is owned and operated by the Corbin Family.
Our key leadership:
Russell B. Corbin- CEO
Shaun Flynn- President
David Corbin- Vice President New Construction
Todd Savage- Vice President Ship Repair
Scott Collier- Operations Manager
Billy Reid- Director of Operations
Quality Assurance
ISO 9001:2008 Compliant Quality Management System
ASME Certified Pressure Vessel Shop "U" Stamp
NBIC Certified Repair Pressure Vessel Shop "R" Stamp
All welders qualified IAW American Welding Society –AWS D1.1/D1.1M Structural Welding Code Steel, AWS D1.2 Structural Welding – Aluminum, AWS D1.6 Structural Welding Stainless Steel, American Society of Mechanical Engineers-ASME Section IX, American Bureau of Shipping-ABS
All inspection personnel certified in accordance with ASNT SNT TC-1A to Level II-VT, MT, PT, or UT
Quantity 2 resident in-house American Welding Society AWS CWI-Certified Welding Inspector(s)
Quantity 1 resident in-house Certified National Association of Corrosive Engineers NACE Level I Inspector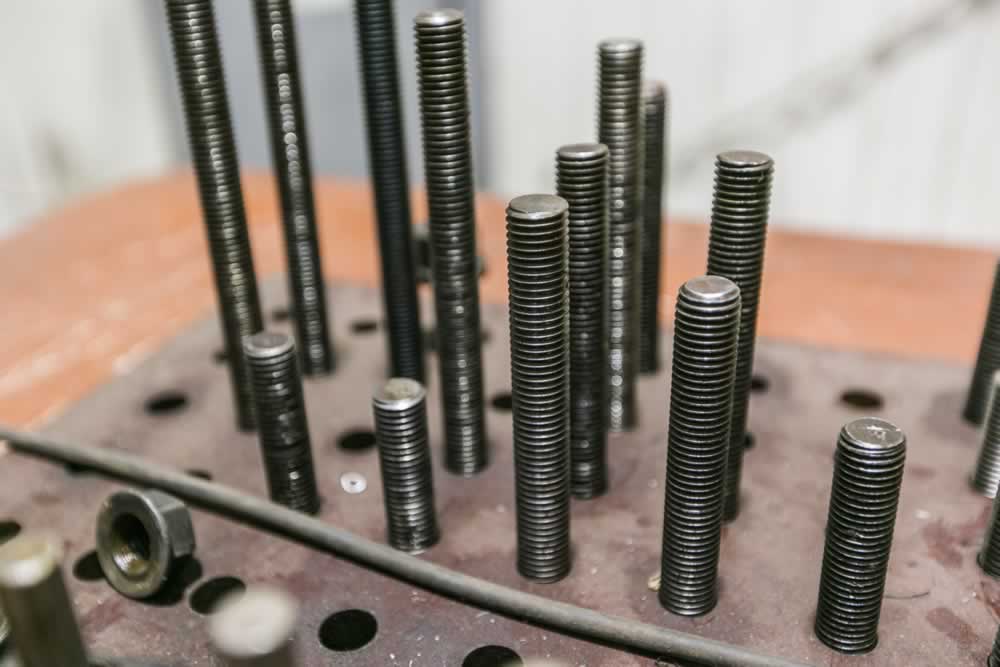 Metal Trades, Inc. (MTI) is a family owned business located just south of Charleston, South Carolina operating with deep water access on the intracoastal waterway. We have been in business since 1962 and have extensive past performance in Heavy Steel Fabrication, Manufacturing, Machining, Vessel Construction and Vessel Maintenance and Repair for both commercial and Government customers.
" J.E. Corbin, Jr. founded Metal Trades, Inc. in 1962 with a pickup truck, a welding machine, and years of metal fabricating experience. Since that time MTI established a solid reputation for its multi-skilled work force and strong commitment to high quality."