Ship Repair
For over 40 years, Ship Repair and Overhaul has been a key part of Metal Trades' business. We maintain a talented staff of managers, mechanics, and craftsman with specific expertise in ship repair aboard US Navy, Army, and Coast Guard vessels.
Metal Trades has over 20 years of experience performing overhaul and repair services on U.S. Army LCU 2000 Class Vessels.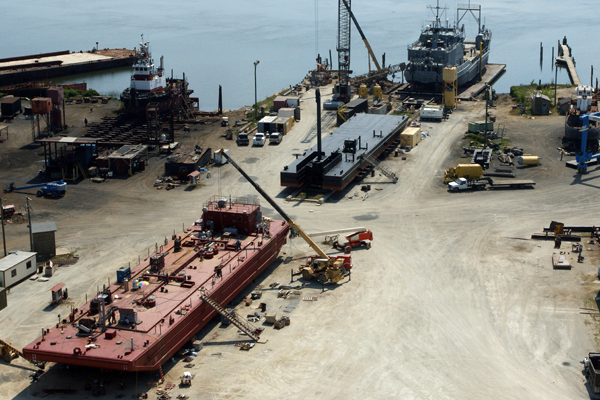 U.S. Navy Barge, Dredge Barge & U.S. Army Vessel in Overhaul
Areas of Expertise:
Blasting and Painting
Machinery installation, overhaul and repair
Hull repair (including underwater)
Diesel Engine overhaul and repair
Piping installations and repairs
Electronics and Electrical installation and repairs
Drydocking:
We maintain a Certified MIL-STD-1625c(SH) 1,000 ton marine railway, and we also have access to a 1,500-ton and 250-ton railway.

Metal Trades, Inc. (MTI) is a family owned business located just south of Charleston, South Carolina operating with deep water access on the intracoastal waterway. We have been in business since 1962 and have extensive past performance in Heavy Steel Fabrication, Manufacturing, Machining, Vessel Construction and Vessel Maintenance and Repair for both commercial and Government customers.
" J.E. Corbin, Jr. founded Metal Trades, Inc. in 1962 with a pickup truck, a welding machine, and years of metal fabricating experience. Since that time MTI established a solid reputation for its multi-skilled work force and strong commitment to high quality."