The Metal Trades processing center is the critical first step of a journey that turns raw materials into high value-added products for our commercial and governmental customers. Today, we take an in-depth look at the Metal Trades Processing Center.
Metal Trades, Inc. is a Heavy Steel Fabricator, Government/Commercial Ship Repair, and New Vessel Construction Facility. As a build-to-print, job-shop-type manufacturer, it is easy to focus on our end-product without adequately highlighting all the critical aspects of production which contribute to the successful delivery of our products.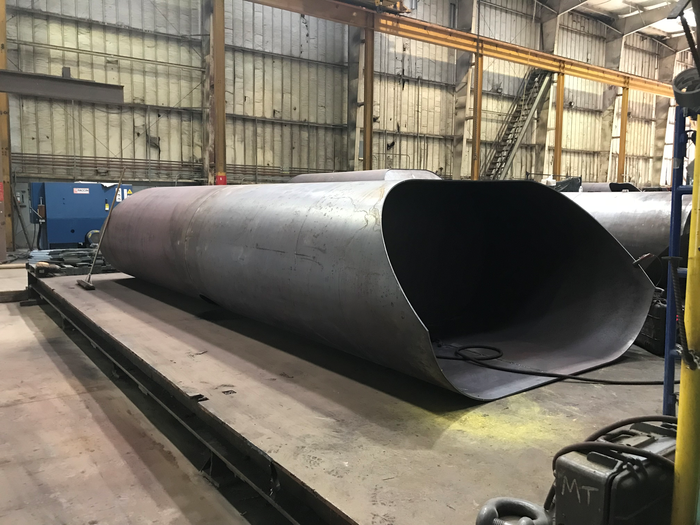 Turnkey Processing: Convenience and Accountability
Ours is a turnkey facility that offers onsite processing, machining services, indoor blast and paint facilities, a 650-foot marine railway with deep water access, and a 200-foot loading pier that offers dockage. We have extensive in-house heavy lift capabilities. Our unique, expansive facility and our expert staff help simplify complex logistics when customers need to build and move large fabrications over land or water.
The heart of our fabrication process, after estimating and award, starts in our AutoCAD Department and Processing center. Metal Trades has four Drafters on staff with extensive experience working with industry-known programs that support project detailing and nesting such as, but not limited to, SolidWorks, AutoCAD, ProNest, PrimecutNE, JT2Go, Navisworks, Romac, 3D Modelling software.
Superior Capacity and Capability
When raw material is received to our facility and formally processed through Shipping and Receiving, MTI offers over 25 acres of dedicated, secured, lay-down area to store customer product. We have the capability to bend, form, cut, shape, and machine raw plate. Metal Trades, Inc. has proven processes and quality procedures in place which we follow in accordance with customer specifications, regulatory agency requirements, and we boast a Quality Assurance Department that is ISO 9001:2015(E) compliant.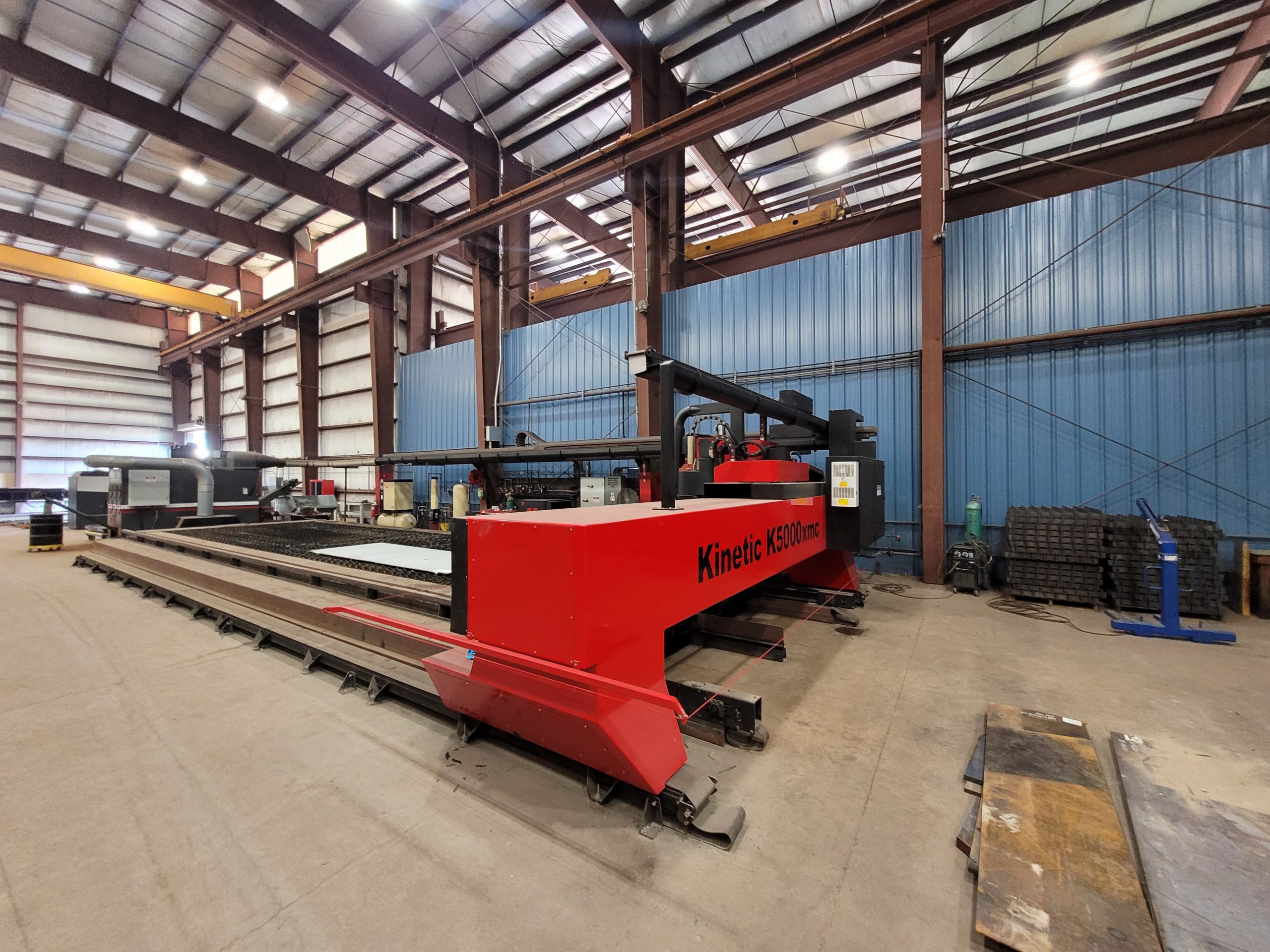 In our Processing Center, we utilize a Heavy Duty Plasma Cutting and Drilling Machine, Model K5000XMC. MTI purchased this machine under a successful application for MARAD's Small Shipyard Grant Program in 2018. This machine has a 10' x 40' effective cutting/processing area for both machining and burning. It offers plasma and oxy-fuel cutting, plasma and oxy-fuel beveling, plasma etching, and machining to include drilling, tapping, milling, interpolation, counterboring and part marking.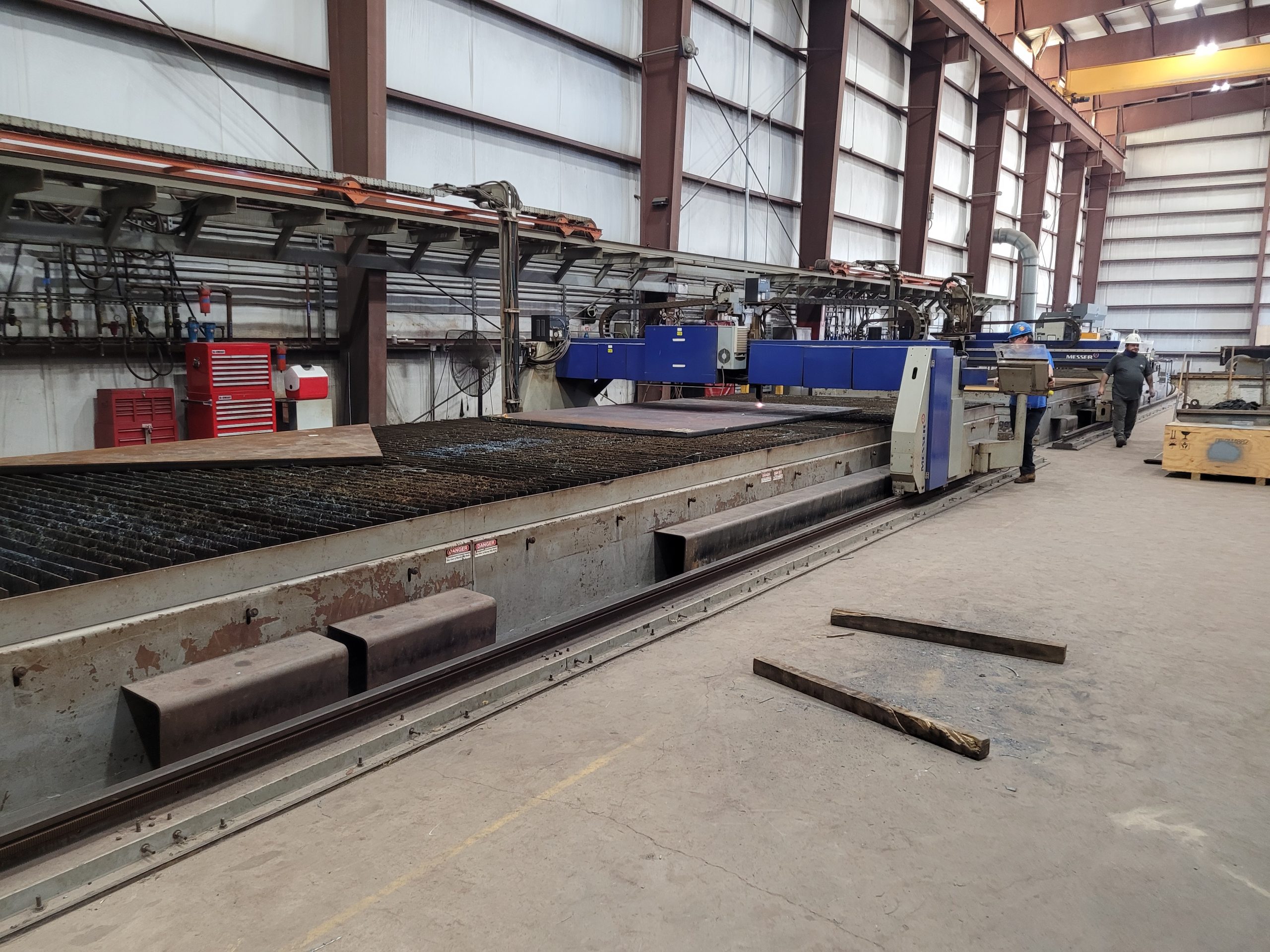 We also have two 260 Volt Titan Messer Plasma Burn tables. These two tables utilize a 10' x 40' effective cutting/processing area. Even though we are in with the new, we stand by our tried and true. These two Messer machines are workhorses, and both tables have plasma cutting and etching as well as each has ALFA oxyfuel torches capable of cutting up to 8".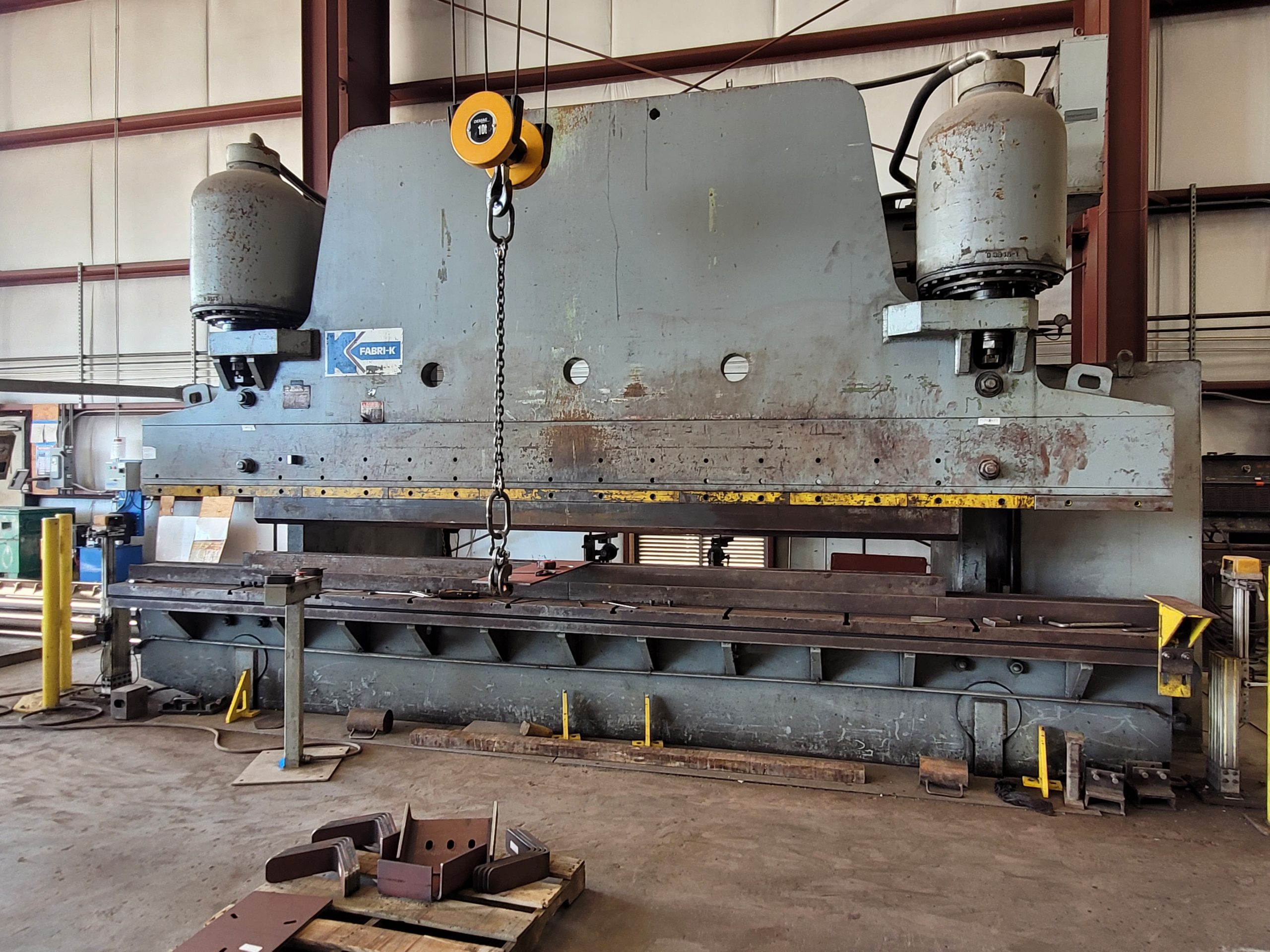 In addition to this equipment, we have a Marvel Touch Tech 60 Vertical Band Saw with a 50-foot rail system and a 25" H x 20" W vice opening at 0 degrees. This saw is capable of cutting a 60-degree miter. We over a Cosen horizontal band saw with a 20' rail and a 10'H x 10" W vice opening. We offer a Geka 110A Iron Worker capable of punching, sheering, and notching angle, flat, square, or round bar. We have a Faccin Plate Roller with a 10' plate capacity. We also offer a 750-ton CNC Press Brake with a 20 ft wide capacity. In our processing center, we have two 10- ton overhead cranes and our two-door openings are 20 ft wide x 30 ft tall.
Investing in New Technologies
Recently our staff was featured in Arku, Inc.'s InfoMAX publication highlighting a recent purchase of an EdgeBreaker 4000. This machine assists with breaking mill scale, removing sharp edges, and prepping material for fit-up. This equipment reduces the necessity for manual grinding and therefore, in turn, more efficiently distributes manpower. We use our EdgeBreaker 4000 primarily for our Power Generation Customers, which is also a core business area for Metal Trades. Due to the nature of the work we perform for our Power Generation Customers this equipment supports our systematic, high-volume production capacity for this specific product line.
Processing: MTI's Firm Foundation
As we say, the processing center is where MTI lays the groundwork for successful projects time after time. From start to finish, MTI's governmental and commercial clients are assured of superior processes and technology and unmatched customer service, backed by six decades of experience. To learn more, please contact Metal Trades today.

Metal Trades, Inc. (MTI) is a family owned business located just south of Charleston, South Carolina operating with deep water access on the intracoastal waterway. We have been in business since 1962 and have extensive past performance in Heavy Steel Fabrication, Manufacturing, Machining, Vessel Construction and Vessel Maintenance and Repair for both commercial and Government customers.
" J.E. Corbin, Jr. founded Metal Trades, Inc. in 1962 with a pickup truck, a welding machine, and years of metal fabricating experience. Since that time MTI established a solid reputation for its multi-skilled work force and strong commitment to high quality."